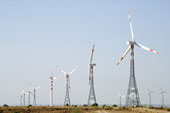 India has introduced a plan to encourage investments in Wind power clean energy by giving generation-linked incentives of 50paise/kWh, in case investors can't claim accelerated depreciation incentive. This scheme, is likely encourage those Independent Power Producers (IPPs) / foreign financial investors who have been either limited or absent from the market due to tax anomalies. This plan improves IPP project IRRs by 175-210bps. If successful, it could rejuvenate growth in the world's 5th largest market with less than 20% potential tapped of the 45GW.
You should note that India has been an early adopter of renewable energy, with wind accounting for ~6% of installed capacity. More importantly, in 2007, 16% of new generation capacity add
was through wind turbines.