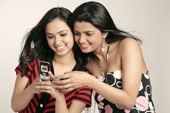 Laid back Modis who failed to turn around a company in 10 years have finally sold out of Spice Communications [Holds license in Karnataka and Punjab with Spectrum in 900MHz band] to Idea Cellular in a share swap ratio of 100:49. [49 Idea Shares for every 100 Spice]. Going forward what does the future look like for Idea Cellular ?
From the structure of Idea's deal it appears that TMI [Telekom Malaysia] is keen to partner a larger player in the Indian Mobile growth story. TMI will acquire 14.99% equity (pre-Spice merger) in Idea at ~Rs157/share as a cash infusion implying post-merger valuation of Idea at ~13x FY10E-EV/EBITDA.
Additionally, TMI holds ~39.2% stake in Spice that will be swapped for a 4% stake in Idea post-merger. Eventually, TMI will hold one board seat in Idea & own between 18.5-20% stake in Idea depending on its participation in the open offer for Spice. The AV Birla group will hold ~46% stake post deal vs ~58% currently.