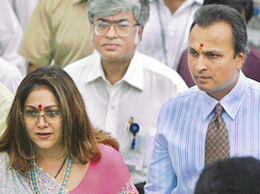 Bharat Heavy Electricals (BHEL), the country's biggest power equipment maker, plans to scale up its manufacturing capacity to 20,000MW by 2012 at an investment of about Rs 6,500 crore as it seeks to gear up for the massive requirement of the electricity sector in the next few years.
Anil Ambani- managed Reliance Energy (REL) announced that its wholly owned subsidiary Reliance Power will go public soon. Reliance Power is expected to mop up $3.5 billion (Rs 14,000 crore) from the market, which will be the biggest public float in recent times after the DLF IPO.
Citigroup has a SELL on the stock of Reliance Energy. Even on Sum of Parts Valuation the stock is quoting at abnormally high price and we agree with Citi's recommendation of SELL. Book profits only if you hold, don't short because operators in the counter are directly backed by Ambani circles said company sources.