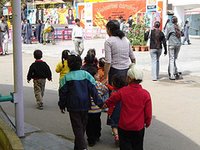 Raymond India and Reebok India have realized that the Indian parents are willing to spend more on their kids than themselves.
Raymond which introduced Color Plus for women a year ago now plans to introduce the same brand to launch kids' wear in the premium segment. Gini & Jony, Lilliput and Zapp are existing kids wear brand but none capture the premium segment of the market. The branded kids wear market is about Rs 3,000 crore and by creating sub brand, Raymond wants to leverage the premium positioning of Color Plus. Raymond wants to be the first entrant in the kids segment and cash in on the retail boom in India.
Global sportswear giant, Reebok which represents individual sports with significant presence in the Indian market is now focusing on wooing the Indian kids. This is one of the best strategies to catch them when they are young and they are likely to stay brand loyal when they grow up.
Targeting kids in the range of 6-12 years, Reebok kids wear will be a premium brand and will be available in 600 stores across India from the end of this year. Mr. Prem of Reebok India said,
Kids are more individualistic and an epitome of Reebok brand value I Am What I Am. Indian kids are more aware of the international designs and have a choice of their own. They desire for the latest trends in fashion.
Reebok will launch Rbk Tech sports, Classic, Edge, Metromobility, Core and Sprint fit for Boys. The collection for girls range from Rbk Sweets, Dance Academy, Tech Sport and Workout.