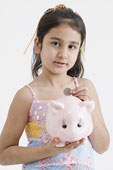 Bank of Baroda reported 1Q09 profits up 12% YoY ahead of estimates. Key highlights are – Flat margins QoQ, strong fee income growth and no significant deterioration in asset quality. BOB's core fee incomes increased substantially (over 40% YoY). NIMs were flat QoQ (down 26bps YoY) with pressures building up on the domestic business. Expect moderate reductions in margins.
Loan growth (42% YoY) was aggressive, especially offshore (+68% YoY), now 23% of book. Management suggests will continue to grow this strongly, though could scale back on domestic growth to 20-25% (+36% in 1Q09). Growth is fairly broad-based (retail, SME, agriculture), profitable for now.
Asset quality of the bank remains a positive – the coverage of the bank remains comfortable at around 72%. Reported NPL grew 6% QoQ in the quarter – however, adjusted for farm loan waiver, NPL grew 11% QoQ. Going forward Bank of Baroda is expected to report negative growth in EPS for FY09 – Rs 32 to Rs 35.
Andhra Bank: Andhra's 1Q09 profits down 45% YoY. Margins contracted significantly over the year and its relatively mid-market loan book is increasingly at risk. QoQ margins were stable; Andhra's relatively lower CASA ratio suggests that margins will continue to be under pressure. Key positive for the quarter though was the sustained growth in fee incomes (+28% YoY).
NPLs have increased a little (+5.5% QoQ); reported asset quality is still fine with Gross NPLs at 1.2% and over 90% loan-loss coverage levels. Andhra's loan book is relatively more exposed to agriculture and mid-market focused. Andhra Bank is expected to report flat EPS growth of Rs 11 to Rs 12 for FY09.