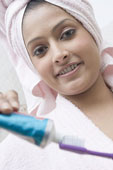 Colgate Palmolive (India) reported net sales of Rs 4.1bn (up 16%), EBITDA of Rs 661mn (up 7.6%) and adj. PAT of Rs 719mn (up 16%) in Q1FY09.
Pre exceptional profit growth was marginally ahead of expectations, driven by 16% revenue growth, and buoyed by 49% rise in other income. Revenues were supported by strong 11.5% volume growth, with toothpaste and toothbrushes recording 11% and 32% growth in the quarter respectively.
Overall EBITDA growth was 8%. Margins tend to be volatile on account of aggressive brand-building spends. Gross margins expanded 50bps Y/Y (up 220 bps QoQ) as cost pressures were offset by price hikes and excise benefits at the Baddi production facility.
Colgate continues to dominate across key segments – toothpastes, toothbrushes and toothpowder – with market shares of c48%, 37% and 46%, respectively
Colgate has the highest dividend yield of c5% and FCF yield of 6.5% in the India Consumer Universe and should provide downside support at these levels.