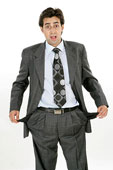 India's worst private bank, ICICI Bank has reported results below expectations. ICICI reported 6% yoy decline in net profits to Rs7.3 bn. Slower than expected loan growth and a sharper than expected decline in non-interest income [NII] were the key factors.
ICICI reported further deterioration in credit quality lead largely by uncollateralized lending. Gross and net NPA rose significantly on qoq and yoy basis. The increase in loan loss provisions is not commensurate with the level of increase in NPA.
Loan growth and NIM outlook would likely remain challenged by rising funding costs due to adverse asset-liability mismatch and dependence on wholesale deposits. All of the above would likely drive significant moderation in NII growth, in our view. Fee income growth will see further moderation due to anticipated slowdown in international banking business as well as retail banking fee income. Deterioration in credit quality would likely prompt the bank loan loss reserve ratio to rise going forward.
The difference between ICICI and HDFC or between K.V.Kamath and Deepak Parekh is evident – Kamath runs after top line without a second thought on quality of business while Parekh is behind bottomline with major focus on business quality. Parekh's HDFC Bank has beaten Citi and SBI to be the second largest credit card issuer in India with an enitrely new business model of lending.