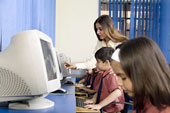 NIIT reported revenue of Rs2.6b up 15% YoY was marginally below expectation of Rs2.7b while EBITDA Rs187m up 29% YoY was significantly below expectation of Rs289m. While Retail training was in line, corporate business was much below expectations despite INR weakness.
IT training business is late cyclical and would get impacted with a lag, in our view. No fees hike during this academic season indicates waning pricing power. Hiring in IT services sector has slowed and we do not expect a quick recovery – this is likely to impact retail training business with a lag. Corporate business revenue were flat while margin declined by 350bps to 0.2%. NIIT is expected to report an EPS of Rs 31.7 for FY09.
Educomp Solutions reported revenue of Rs694m (up 152% yoy) and net profit of Rs168m (up 181% yoy). It also reported headline consolidated numbers – revenue of Rs860m and net profit of Rs166m for 1Q. Smart-class revenue was Rs472m, while ICT revenue was Rs81m.
Company currently has 8 operational schools with 7,000 student enrolled. It plans to add 16 more schools during this financial year. Company acquired 51% stake in Learning.com for US$24.5m in May'08. Two JVs with Raffles Education for the Indian and Chinese markets – both companies plan to invest US$100-150m over next 2-3 years into these JVs.
Educomp has maintained its FY09 guidance for revenue of Rs5.4-5.5b and net profits of Rs1.35-1.4b for stand-alone entity.