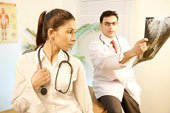 Ranbaxy Laboratories stock was hammered on the bourses by 10% on concerns raised by the US FDA which has filed a motion in a US court seeking access to certain privileged documents related to Ranbaxy's manufacturing operations as part of an ongoing investigation.
Ranbaxy has stated that the allegations are baseless & intends to file a response on 14 July 08. It has denied media reports of prosecution proceedings being initiated or that its executives have been asked to depose. It maintains that this is a part of an investigation that's been on for 3 years during which the FDA tested over 200 randomly collected samples of its products without finding any evidence of non compliance.
Thinking out of the box, could Pfizer have had a say in this FDA investigation to derail the Japanese takeover of Ranbaxy ?Last month Ranbaxy promoters sold their stake to Daiichi-Sankyo thus giving the Japanese company the management control of Ranbaxy Labs – India's largest Pharma company.