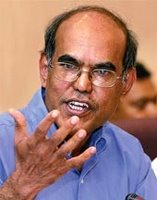 The appointment of Dr. Subbarao as the new RBI Governor has seen as a Political move by Foreign Financial Institutions effectively designed to put a halt to the progressive monetary tightening that Governor Reddy has implemented since he took the job in September 2003.
On 28 July, Dr. Subbarao spoke to Bloomberg and quoted that raising rates is the "obvious" answer to surging prices. So we can expect interest rate calls unchanged, envisaging 50bps of repo rate hikes and 50-75bps on the CRR by end CY2008. The rate reductions will only begin in 2H CY2009 when growth may have slipped below 7%.
A period of below trend growth, which the monetary tightening may well engineer, is likely to be deemed as an inevitable consequence of controlling inflation expectations and easing the many bottlenecks in the economy.