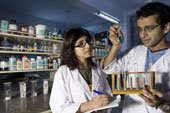 Drug major Sun Pharmaceutical Industries along with its subsidiaries has secured its first US Food and Drug Administration approval to sell the generic version of a controlled substance in tablet form and has also received final approval from USFDA for the various Abbreviated New Drug Applications (ANDA).
The company has received the approval for Hydrocodone with APAP, its first approvals for product based on controlled substances.
The company has also received approval for generic versions of cholesterol-fighting Lopid, Aredia, used to treat high blood calcium, and anti-allergent Phenargen in multiple strengths.