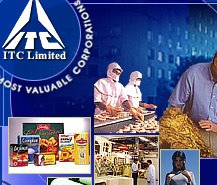 Mumbai's leading Broking firm, Prabhudas Lilladhar has put a BUY recommendation on the company's stock at Rs194.
Their team met ITC company officials before writing the research report. Key highlights of the report are as follows. Increase in tobacco prices not a key concern for ITC. In non-cigarette's FMCG, Foods, LifeStyle Retailing and Stationery to be key growth drivers. Agri trading business is expected to show a robust performance. Capacity additions in Paperboard.
ITC is expected to report an EPS of Rs7.1 and Rs8.3 for FY2007 and FY2008. Prabhudas research says @ Rs194 it is quoting at 26.2X FY07Eand 22.4X FY08E which is wrong. However, if you calculate on the expected EPS, it is actually quoting at 27.32XFY07 and 23.37XFY07. The entire report on ITC can be accessed here. [PDF]
DalalStreet.Biz Recommendation: I maybe wrong but for me the stock looks expensive at Rs194 levels and wouldn't buy at this level.