The Indian GDP numbers for Q2 FY08 are out. It is up 8.9%. This was in line with expectations given the deceleration in manufacturing activity in the rate sensitive sectors. Given that banks have started lowering their lending and deposit rates and that inventory is getting cleared, we expect manufacturing activity to pick up in the coming months and are thus maintaining our full year estimate of 9.3%.
Agriculture growth came in at 3.6% – given the good monsoon we expect trends to remain favorable. Overall industrial growth was 9.1%. While manufacturing activity decelerated from 12.7% last year to 8.6% currently, trends in construction (up 11.1%) as well as mining (7.7%) remained buoyant. Services growth remains in the double digit range but there has seen a slight deceleration in trade activities which could possibly be attributed to the strong rupee.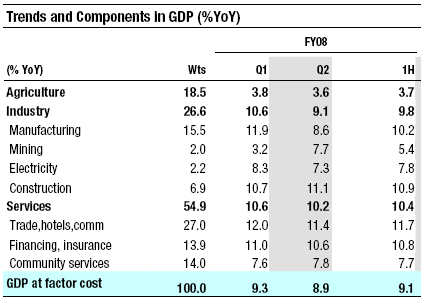 Looking ahead, while the investment side of the story appears intact, consumption has been a drag on industrial growth. Analysts are maintaining our 9.3% GDP estimate for FY08 given the likelihood of monetary easing next year coupled with likely favorable trends in both agriculture and services.