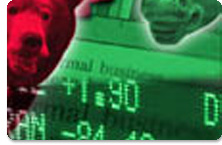 After India's biggest Bull, Mr. Sanjiv Duggal turning bearish on the Indian equity markets, Morgan Stanley has come up with a Base case prediction of SENSEX going down in the next 12 months while the Bull case prediction leaves very little on the table for investors entering the market at this level.
Some of the main factors for such a bearish view are as follows, Contrasting Situation at Home and Abroad Makes Way for Fat Tails.
Macro: Soft Landing Underway, Risks are Exogenous The Central Bank has engineered a soft landing and thus growth is likely to slow in 2008.
Earnings and Corporate Activity: A Bag Full of Surprises Corporate activity is unlikely to surpass its 2007 peak in 2008. M&A activity, especially overseas M&A, is likely to be constrained by a combination of high valuations and funding issues thanks to difficult credit markets.
Valuation: Relative Multiples Could Be Headed Lower India's valuation gain in 2007 has been a key driver to the equity market's relative performance. India started the year with a trailing P/E of 23 times (MSCI India) and is now trading at 30 times consensus earnings.
Market Outlook: Get Ready for a Bumpy Ride. Residual income model projects a fair value of 14,864 as at December 2008, implying 26% downside potential from current levels in 12 months from today. At base case fair value estimate, the BSE Sensex would trade on a F2009E P/E of 14.3x (Morgan Stanley estimates) vs. the F2008E multiple of 21.8x at which it currently trades. Bull case estimates of 21,622 represents 8% upside from current levels, while bear case implies downside risk of 45% to December 2008 to 11022. Attaching a 55% probability to base case and a 20% probability each to bull and bear case.
Dalal Street Analyst Expectations:
We have been recommending investors to BOOk Profits wherever they find them. However, do not EXIT completely. Base Case Analysis of SENSEX hitting 15,000 once in the next 12 months is very likely.