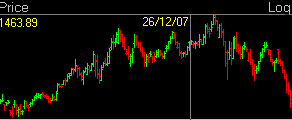 India's worst bank – ICICI Bank just a while ago was downgraded by Morgan Stanley from Overweight to Equalweight. Our Analyst on the 5th of March wrote asking if ICICI Bank was hiding the facts of sub-prime and it appears to be so after reading the Morgan Stanley report.
Nearly 55% of ICBK's loan growth comes from its international loan book, which is wholesale funded. Credit spreads for ICBK have spiked, which will impact loan & fees income growth in F2009.In addition, losses on investment book have risen. ICBK will have to invest further capital in subsidiaries – if credit markets remain weak. Banks cannot put more than 20% of equity in their subs and ICICI is close to that limit.
Valuations attractive compared to private banks but unlikely to outperform given uncertainties. Despite the stock having corrected from Rs 1,450 levels [see price chart above] the stock is unlikely to outperform until capital and credit markets improve – it has the maximum leverage among larger Indian banks to these markets.
This rating on ICICI Bank Holds good until credit and capital markets improve or if RBI starts following a softer monetary policy.
Morgan Stanley has cut the target price of ICICI Bank from Rs 1,575 to Rs 950 on a FY2009 EPS estimates of Rs 44.