The Oil has scaled to a record high and Indian Oil Marketing companies [HPCL, BPCL, Indian Oil Corp] are losing $12 million everyday for selling subsidized Petrol / Diesel / LPG. With stream of elections across India and no political party willing to risk their fortunes by raising oil prices, the Government's subsidy bill is simply out of control now. All the noises about 30% plus growth in Tax collection will now be utilized for Oil Bonds and Government subsidies.
The current account deficit as percentage of GDP has worsened since 2003 and is close to 1991 level[Historically the Worst for India]. See Graph Below.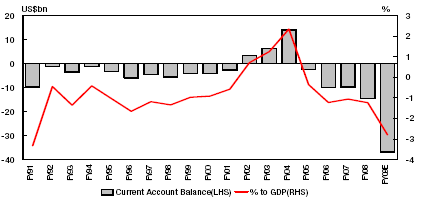 Adding to India's woes is weak global environment. India's balance sheet fundamentals suggest some weakness given its widening current account deficit, limited fiscal space coupled with rising inflation. This is sending conflicting signals to Foreign Investors and some have opted for wait and watch approach while other are planning a limited exit to de-risk their folio.
However, their are factors that put the odds in favor of India's resilience rather than its vulnerability include the underlying growth story, favorable external debt ratios, high reserves and policy response.
Research houses have again revised the GDP estimates downwards for FY09 to 7.5%, which was more like 10% at the beginning of the year. On a side note, the USD has hit a 6 month high in Intraday trade today and is quoting at Rs 41.15.
We are recommending our Investors not to commit any big ticket investments at current levels. India being an Oil dependent economy and lack of will by successive government's to strike deals with Middle East or Russia is a dampener.