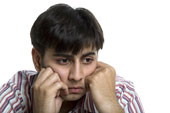 Breaking News:Fitch Ratings jus minutes ago revised the Outlook on the Republic of India's Long-term local currency Issuer Default Rating (IDR) to Negative from Stable, while affirming the rating at 'BBB-' (BBB minus).
James McCormack, Head of Asia Sovereign ratings said,
The revision to the local currency Outlook is based on a considerable deterioration in the central government's fiscal position in 2008-09 (FY09), combined with a notable increase in government debt issuance to finance subsidies not captured in the budget.
Future rating actions with respect to India's local currency rating will depend largely on whether the FY09 fiscal slippage is reversed. Overall the macro is seen heading into Troubled Water.
We expect the RBI to hike limits on external commercial borrowings corporates can bring in (now US$50-100mn pa) mainly to supports the INR and help industrial capex. Further, the RBI may want to hoard fx reserves as insurance cover against "global uncertainties". The RBI in the past has preferred to sacrifice the INR rather
than sell fx in bouts of volatility.