The most vulnerable banks due to declining property prices in India are ICICI Bank, Kotak and Axis Bank and the least are Canara, SBI, Bank of Baroda and HDFC Bank. However, bear in mind that the situation is manageable considering the low absolute levels of property-related lending and the cushion due to lending practices.
CRISIL Research (subsidiary of S&P in India) estimates that loans against property constitute just 8% of mortgages, and within that 76% loans against residential property (as against commercial). Even in the latter, the preference is for lending against self-occupied property which is better collateral. It is reasonable to assume that since borrowing for a home has picked up only in the last 4-5 years, most of these loans are not fully repaid and hence the house cannot be re-mortgaged for further borrowing.
The following Table shows Home Loans as % of Net advances by various Indian banks: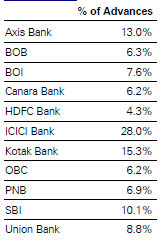 In case of defaults these banks do not follow the blanket seizure-and-sell model. Banks prefer to work out with the borrower rather than sell the house. During the period of the workout and until installments return to the regular level, the loan has to be reflected as an NPL.
Home sales have dried up because the steep increases in property prices. We need at least a 20 to 25% fall in property prices before demand picks-up meaningfully.