We are certain that there is hardly anybody who hasn't heard about the name Mr. Anand Jain of Jai Corp Ltd counted along with Reliance Industry chief, Mr. Mukesh Ambani. On the anniversary of destroying 96% of shareholders value within 12 months, Jai Corp joins Dalal Street's Hall of Shame 🙂
Today we would like to present to our readers about Mr. Anand Jain's company Jai Corp Ltd and its stock performance in the past 12 months:-) If you look at the chart below, you will see that on 25th Jan 08, Jai Corp Stock was traded at Rs 1,358 and the same as on Jan-27th, 2009 is available at Rs 58 🙂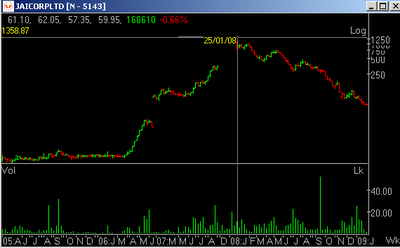 We are also attaching the Weekly Closing prices of Jai Corp Ltd here. Price was rigged in the stock from mere Rs 5.25 [yes just five rupees, 25 paise] in Jan-06 to an all time High of Rs 1449.90 in the week of Jan-11-08.
Jai Corp and its operators floated rumors, made announcement after announcement that they will be big beneficiary of Reliance SEZ [Which never took off]. We first wrote about Jai Corp in October-07, when the promoters offloaded 2.19 crore shares at Rs 1,078 a share.
On Nov-19th-07, we exposed how the management was trying to cheat investors by differential pricing of preferential allotment of shares – Investors at Rs 1,034 and promoters at Rs 99. A month earlier they had sold at Rs 1,078.
The moral of the story is – Scams, be it Banking Securities [Harshad Mehta], IT Stocks [Ketan Parekh] IPO, Satyam, Jai Corp are all parts of this system and they will continue to happen as successive Indian Government have lacked the will to clean up. Institutional Investors make up for the loss else where by bagging investment banking contract or arranging loans etc
As a small Investor, your Goal is to figure out the next sunrise industry and invest in it early. Recall the 20-60-20 formula ? The First 20 persons are the daredevil visionaries who invest in the opportunity. Then the lesser mortals who constitute the 60% enter the scene and as the last 20 begin to enter [Your Panwala, Bai, Watchman, etc ] the first 20 investors exit and you know what happens later 🙂 [Recall Reliance Power IPO]