Live Mint, India's leading financial daily conducted a survey amongst Equity Analysts and found that Reliance ADAG [Anil Ambani] group Topped the List for Poor Corporate Governance, Ethics and Board Constitution. DLF and Unitech were the second most doubtful companies. Reliance Industries led by Mukesh Ambani scored far better than Anil's companies.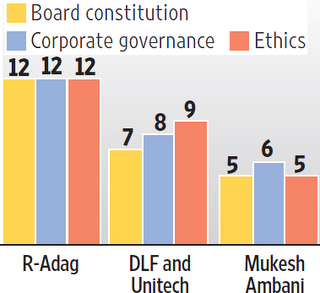 How to interpret the above Results ?
12 indicates, 12 of the 20 analysts said they had doubts about Corporate Governance. Analysts were allowed to vote on multiple companies.
You may want to recall, we had an exclusive story on the performance of Reliance ADAG Stocks – that came crashing down like a house of cards. While covering the Satyam Fiasco we had already said what Live Mint survey is saying now,
So who is next in line ? Anil Ambani's Reliance Communications is already probed for Evasions. Indian Real Estate Companies are also known for their Inflated Land Bank Values…
India Real Estate, pointed out in 2006 how Real Estate sector operates where they accept Black Money for the Apartments you book. RIL -Mukesh Ambani is also mistrusted but not to the extent like how Anil Ambani companies are. You can read the entire story here.