The Political Stability fueled rally is getting back to the basic fundamentals of the market. Now we are in a period of pre-budget and hence lets have a peek into what have been Analyst expectations in the past and what Netas turned Finance Ministers have delivered and the market reaction towards the same.
The chart below shows Historical Pre-Budget and Post Budget performance of the market since 1991.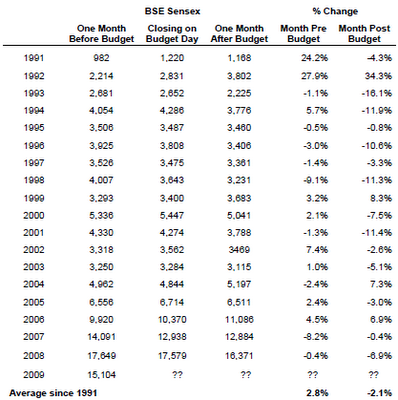 So what is your guess on where the markets will be ?
What we are looking for in the Budget ?
If the government executes on reforms, we believe there will be more
upside to growth, especially in F2011. A notable concern would be that the social agenda takes over the economic agenda, hurting confidence and growth. A boost can come from execution of reforms. Consensus estimates are not building in big reforms in the next 12 months. Will the Old Man on Hot Seat surprise the industry and the market ?