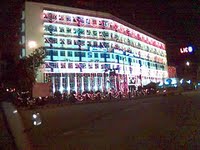 Q2FY10 net profit of Canara Bank surprised on the upside, at INR9.1bn, up 72% y-o-y. Net interest income growth was healthy at 14% y-o-y. Credit growth has been exceeding the deposit growth for many quarters now (unlike at some of the other PSU peers where the trend is the reverse) and is the primary reason for its strong operational performance.
Net interest margin (NIM) was protected at 2.66% for the quarter. A manifold surge in trading gains, up 500% y-o-y, was the show stealer this quarter. While this helped prop up the non-interest income to much higher than our estimates, what we believe is very well-timed is the derisking of the investment portfolio.
Demand from Infrastructure, Power, Roads, Pharma, Steel and Cement sector is likely to drive the loan book growth which the management targets at 20-22% in FY10.
BOF-Merrill expects Canara Bank to report an EPs of Rs 57 and Rs 68 for fy10 and fy 11 respectively with a good dividend pay-out of 80%
HSBC is bullish on the prospects of Canara and expects it to report an EPS of Rs 68 and Rs 87 for fy10 and fy11 respectively.
ENAM expects it to report an EPS of Rs 67 and Rs77 for fy10 and fy11 respectively.
Target Prices of Rs 425. HOLD. ADD on Decline. BUY on market corrections for long term as it is quoting at miserably low P/E of just 5 with 15% conservative CAGR.