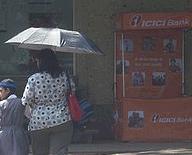 In its quarterly review today, the RBI left key policy rates unchanged. However, in a move that marks the first phase of exit from monetary accommodation, it raised the Statutory Liquidity Ratio (SLR) by 100bps to 25% effective Nov 7th. Most major impact on the banking sector comes from RBI's new regulation – real estate loan provisioning from 0.4% to 1% and imposing total provisioning against NPAs at 70%.
In particular, we highlight the potentially meaningful pretax profit and BVPS impact for several banks of the RBI's 70% minimum loan loss reserve coverage on NPLs.
ICICI Bank requires an increased provisioning of Rs 3,500 cr while SBI requires around Rs 5,000 Cr. It is negligible for HDFC and Axis Bank.
Static analysis of incremental provisioning needed (based on the most recent NPL/reserves metrics) suggests limited (<1%)>