Around 139 companies from the BSE 500 have reported earnings and the overall score is – Net Sales increase by 3.3% and Net Profits by 25.3% with NPM expanding to 12.4%.
Autos and cement have performed strongly in sales while Telecom, metals and media are the laggards. When it comes to profit, Banks and Autos lead the chart followed by Pharma. Construction and Infra have seen a decline in profits.
On the back of tepid earnings growth, reforms moving slower than expectations and central bank's signals on a possible exit policy and at the same time equity supply is burgeoning has weighed on the markets as expected even before the results season began.
Investors must cash-in on this volatility and BUY and HOLD as the era of (% plus GDP growth is still ahead of us i.e pricing the boom is atleast 12 months away. [You should see an upward spike in discounting the SENSEX.
Sensex Earnings Estimates: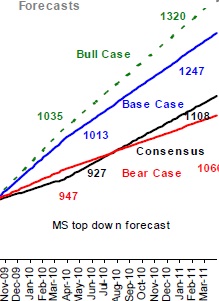 As seen in the chart above, Morgan is extremely bullish about FY11 with base case expectations of 1247 while consensus is still at 1108. WE feel that consensus will rise going forward but may not see revision upto 1247 but likely until 1170.
Morgan's target for Dec-10 is 19,400 which is quite reasonable in our view. BUY on every dip and stick to GROWTH sectors / fundamentals.