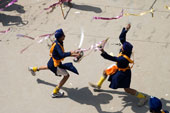 Tata Steel announced its results for Q2 FY2010.Both Corus and Tata Steel consolidated reported EBITDA and PAT were in red for the Sep qtr as losses at Teesside (TCP), and restructuring charges of Rs9.1B (some related to contract cancellations) hit earnings.
Corus reported EBITDA loss of $375MM (including TCP loss of $170MM) vs the 1Q loss of $387MM. Realizations fell q/q across segments in Europe. Tata reported consolidated PAT loss of Rs28B, 35% higher than 1Q loss of Rs20.2B. Tata Steel plans to reduce debt by $2B in the medium term through a combination of existing cash ($2.3B), non-core asset sales.
Management highlighted that Corus was EBITDA positive in October, and to our query on the recent decline in steel prices possibly impacting profitability, management remained positive on the 2H earnings outlook.
Tata Steel EPS Estimates & Rating:
Morgan Stanley is a Big Bull in Tata Steel as it expects it to report an EPS of Rs 29 and 95 for FY10 and FY11 with a price target of Rs 645.
Merrill is UNDERWEIGHT on Tata Steel with EPS expectations of Rs 16 and Rs 49 for fy10 and fy11 with a price objective of Rs 405.
JP Morgan is NEUTRAL on Tata Steel with a price objective of Rs 475 and EPS estimates of Rs 4 for FY10 and Rs 69 for FY11.
Deutsche Bank expects EPS of Rs 14 and Rs 68 for FY10 and FY11 respectively.
Consensus EPS estimates for Tata Steel is Rs 24 and Rs 65 for FY10 and FY11 respectively.