Mahindra Holidays and Resorts Ltd is India's largest holiday timeshare company enjoying a market share of over 70% in the industry. The company currently has 27 resorts, with 1261 apartments / cottages and over 96,000 members. MRHL, with a highly respected promoter group, excellent execution of projects and a track record of delivering an apparently good holiday experience to members,
is the strongest player in the timeshare industry in India.
Business Performance:
Membership enrollments have grown at a CAGR of 32% over the last three years. Its revenues and net profits have grown faster at a CAGR of 41.3% and 58.6%, respectively over this period. Timeshare is a very high entry barrier business model that requires relatively low equity capital and generates predictable annuity revenues.
The following table shows the Profit and Loss Account of the company over the past 4 years.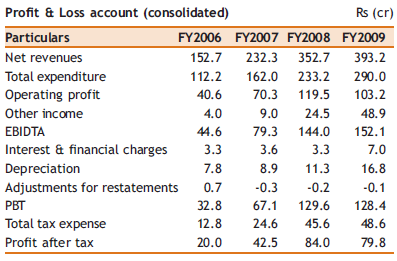 Current IPO Details:
Fresh issue of shares : 5,896,084
Offer for sale of shares : 3,369,191
Retail portion: 2,779,583 shares
Price Band – Rs 275 to Rs 325
Some Concerns:
The company recognizes the non-refundable portion of the membership fees (about 60% of total) in the year of booking. The remaining (about 40%) is recognized evenly over 25 years (the membership period). Revenue recognition policy somewhat aggressive since it is unlikely that 60% of the costs of servicing a member are incurred in the first year. The number is more likely to be closer to 30%.
Recommendation:
At the lower and upper band of the issue price the stock would discount its FY2010E earnings by 23.9x and 28x respectively and its FY2011E earnings by 19.5x and 23x respectively. The issue is very aggressively priced leaving very little room for upside on the basis of fundamentals.