CLSA Asia Pacific Research has an outperform rating on Reliance Industries Ltd with a price target of Rs 1,875. The target is actually revised downwards from Rs 1,995 which CLSA had set on August-2nd of this year.
The analyst compares RIL with that of US peers. Concern E&P valuation for Reliance (which assumes that it discover 75-80tcfe of additional in-place resources) pegs asset value at $3.5/boe on recoverable resources. North American natural gas E&Ps discount $16/boe on 1P reserves but trade at a more modest $4.5/boe on recoverable resources. They also operate in a higher profitability regime given better realisations. Further, the 8x P/CF multiple that forms the basis of our going concern value is 55% higher than the 5-5.4x P/CF that these peer discount.
The sum of parts valuation is as below.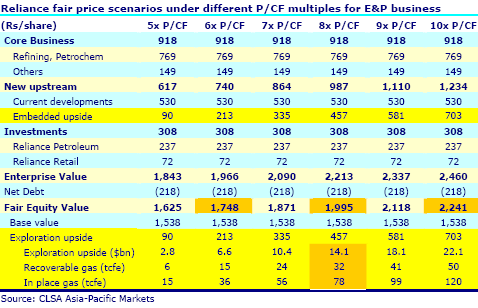 Reliance was upgraded to BUY by Deutsche Bank earlier this week with a price target of Rs 2,130.