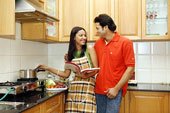 Everest Kanto is a dominant player in the domestic and global high pressure seamless gas cylinder market with ~75% market share in India and about 11% worldwide. The majority of its customers are OEMs (based in India, Iran, Pakistan and China). The market has not fully priced in the company's ability to execute and grow in a supply-constrained global cylinder market (estimated demand of 5 mn cylinders in FY2009 according to the IANGV). Estimate a utilization rate of 60% and a sales CAGR of 50% for FY2008-FY2010E.
With existing capacity running at close to 100%, EKCL has added new capacity at strategic locations, targeting high growth/high realization international markets (Dubai to serve the Middle East and Pakistan, China for China).
Estimate that through FY2008-FY2010E, margins are sustainable at ~27% given the company's evolving product mix (72% of growth from CNG cylinders) and geography mix (80% of growth from international markets. EKCL has diversified its sourcing strategy by using alternate manufacturing processes (billets instead of tubes) thus reducing
supplier risk.
Goldman Sachs has a 12-month DCF-based target price of Rs 464