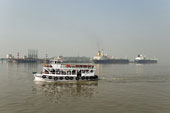 Anand Rathi has reiterated its BUY rating while covering ABG Shipayrd with the Stress Case / Worst Case scenario.
ABG recently announced that it has deferred fund raising for Surat II, make us believe the project would be delayed, the same has not been included in Analysis. Further, expect the new capacity being built globally lead to tough competition in the industry. Thus assuming ABG's utilization to fall to 70% FY12 on.
ABG's gross order book applicable for subsidy (from the lapsed scheme) stands at Rs82bn. The government has not yet decided whether to renew the subsidy scheme and has also been dithering over disbursements and approvals from the previous scheme. Assuming things will not improve in the short term owing to current fiscal, taking a conservative approach have excluded all subsidies from estimates, whether it be from the present order book or from the orders to be received.
ABG is expected to report an EPS of Rs 35 and Rs 48 for FY09 and FY10 respectively. ABG is trading at 6.9x FY10e earnings, compared to its global peers which trade in the range of 8-12x. Anand Rathi has set a target price of Rs506 – combining the core business fair value of Rs479 and the ship-repair value of Rs27.