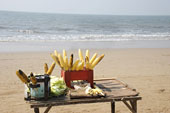 Riddhi Siddhi Gluco Biols is expected to report solid performance for the current FY09. Maize starch and its derivatives industry to double in next five years. RSGB with around 25%market share is the leader and is expected to maintain its market share going forward due to recently commissioned expansions at Viramgam and Uttarakhand
Although the maize prices have risen currently we expect the company to pass it on to the consumers especially in the derivatives segment. The company also has maize inventory of around four months which would take care of any sharp rise in maize prices.
The management has identified various export markets for value added starch and thus is committed to making the Viramgam Unit, which has ISO-9001 certification, the export hub for the company.
Continuing its earlier recommendation of May-08, Kotak continues to recommend a BUY with a revised Target price of Rs 350 [Earlier Rs 390.] Revised EPS estimates for FY09 is Rs 43.1. SBI Caps Research estimates Rs 42.6 EPS and has set a Target Price of Rs 340.