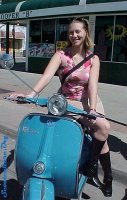 The 2-wheeler industry demand in India is set to grow from FY09E (+8.5% pa in FY08-11E), after having declined -7.9% in FY08. Pricing power is back; discounts are the lowest in many years. In motorcycles, while Bajaj has lost market share in the recent past, it has rationalised its portfolio and is set to grow volume in the domestic market from 4QFY09E (+7.3% pa in FY08-11E). [Bajaj is no more into the nostalgic scooter business]
Two-wheeler demand has bounced back from a low base as 2 wheelers suffered from tightening credit more than a year ago. Only 30% of 2-wheelers are financed now, against 55% two years ago. We expect the domestic 2-wheeler industry to grow 8.5% pa in FY08-11E (7.9% decline in FY08).
3-wheeler business is likely to remain a low growth cash-cow. Bajaj's exports of two wheelers are growing strongly. Exports, which account for 27% of EBIDTA, will likely grow at ~16% pa in FY08-11E and provide support to underlying profitability. 3-wheelers will likely remain a source of cash flow. EBIDTA to grow 15.8% pa in FY09-11E and EPS to grow 17.7% pa in the same period.
Credit Suisse expects the company to report an EPS of Rs 55 and Rs 63 for FY09 and FY10 respectively. It has set a target price of Rs 687.
We recommend existing investors to HOLD.