The benchmark Indian indices Sensex and Nifty have corrected ~37% from their peak. However, the BSE Realty Index has fallen by 70% and some stocks in the property index have fallen more than that. Property prices have started correcting every where, Residential was the first one to be hit followed by Commercial and Retail now. Worli and Bandra Kurla Complex have seen big fall in rental values. We present to you the performance of Realty Stocks in the past 9 months.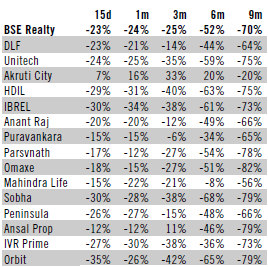 Courtesy: Citigroup
As you can see from the table, none of the stocks have been spared.
What is the cause for such massive hammering / sell-off ?
Research Analysts want the company they invest in to be cash flow positive and EPS to grow YoY. However, in case of realty stocks most managements operate on the basis of "Assets / Land Bank" valuations in mind with very little importance to generate big cash out of it. If you study individual reports of each of these companies in the Realty Index, their earnings are expected to be flat in FY09.
Only investors in Tier-I cities had burnt their fingers in Real Estate so far. However, this time I am pretty sure Tier-II city investors / speculators will face the agony. It is a Myth that Real Estate and investment in Realty Stocks is a safe bet, only diversified Equity Asset Class will create wealth in the long run, compared to investment in any particular Sector or Asset 🙂