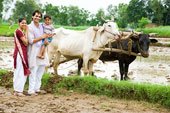 Polymer costs for JISL have declined by around 25% over the past three months which includes cut in excise duty, this implies a margin expansion of ~700 bps. JISL has wound down its capex plans for F09 and now plans to invest around Rs2.0 bn (Rs3.0 bn earlier). Certain corporate capital expenditure has been deferred, and the company plans to outsource non-critical MIS component manufacturing.
JISL intends to reduce its working capital requirement by around 30%. This reduction will be driven by a combination of lower polymer cost, low raw material inventory, and de-bottlenecking.
The minimum support prices for key crops in India are up around 20-60% through F2007-09. This assumes significance as the cost benefit for adoption of Micro Irrigation Systems – MIS improves for the farmers, reducing their payback period. Micro Irrigation is now a proven technology for improving agricultural productivity and reducing water utilization and incidence of disease/pests.
Although investors were laser-focused on polymer prices as they rose over the past few months, they now seem less enthusiastic about the possibility for higher margins because of falling raw material prices.
Jain Irrigation is expected to report an EPS of Rs 26 for FY09 and Rs 36 for FY10 respectively. Dividend yield will be approximately 2%.