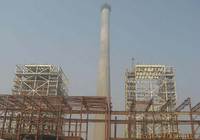 Rosa Phase I is the first of the 13 power plants being developed by Reliance Power. It will be a 600 MW (2×300 MW) plant, which, as per the agreement is likely to be commissioned by March 2010. The estimated cost of the plant is Rs27 bn and it is being funded in a debt:equity mix of 80:20. Until now, the company has spent approximately Rs12 bn on its construction. The power produced from the project will be sold to the Uttar Pradesh Electricity Regulatory Commission (UPERC) on a cost plus basis.
Shanghai Electric Corporation (SEC) is the EPC contractor for the plant and is supplying the BTG equipment while the BOP works are subcontracted to various players in India. The fuel supply is secured from Central Coalfields; the company has also entered into a coal transportation agreement with the Indian railways to transport coal from the mines to the project site, a distance of approximately 870 km. The entire land required for the project is in place.
The company has achieved an overall progress of 56.4% as against a target progress of 44%. The company aims to commission the project in 27 months (as against the agreed period of 33 months), six months ahead of schedule. The Boiler area is fully under construction while the foundations for the Turbine and Generator have been laid. Construction of the coal-handling terminal, cooling towers, water reservoir, ash handling system, ESP and DM building, and the transmission line is underway.
Finally, we are seeing something in Anil Ambani worth while 🙂