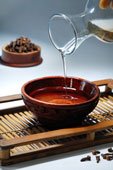 Ruchi Soya and Industries Ltd. (RSIL) is largest producer and supplier of vegetable oil and soya foods in India with an annual seed crushing capacity of over 2.9 million MT. RSIL is also a largest player in branded edible oil category accounting for ~19% of Indian market (Nutrela, the biggest Soya foods brand in the country, enjoys more than 50% of the market share).
The branded category of edible oil for the company has grown over 30 percent CAGR since last 8 years from Rs500 crore to over Rs3000 crore in FY08 whereas the share of branded sale to total sales has increased from 19 percent in FY01 to 30 percent in FY08. We expect the recent tie-ups with leading retailers like pantaloon; Subhiksha would further enhance the share of branded sales.
The Company has forayed into high margin mustered oil segment and is expected to achieve the leadership position in next 2-3 years. RSIL has acquired a plant with 300 MT / day crushing capacity in Ganganagar and has further planned to ramp up the capacity to 1000 MT / day by 2009E.
The company over the years has transformed it self from low margin trading activity to high margin manufacturing of branded products. The share of manufactured products has increased from 46% to 75% in last 5 years.
At current market price of Rs23 the stock is trading at 1.9x and 1.4x of FY09E and FY10E earnings respectively. It is expected to report an EPS of Rs 12 for FY 09 and Rs 16.2 for FY 10. The stock is considerably down from its peak [Rs 150] which provides value buying opportunity at current level, in addition, the stock is trading at lower valuation compared to its peers.