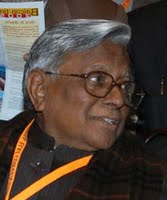 The photo on your left is that of a less media savvy Dare Devil promoter of JP Associates – Founder and Chairman – Jaiprakash Gaur. Before you read into the research of JP Hydro and Associates, we recommend you to read the confidence Gaur family had in their company and projects they were executing as they pumped in INR 2,000 Cr into the company at a share value of whopping Rs 397 / share when the market Price was mere Rs 80. All other corporate big names like Kumar Birla canceled preferential allotment in 2008 as the stock price at taken a beating.
JP Hydro
JP group has decided to consolidate its power assets under JHPL with the merger of its 80.6% power subsidiary (JPVL – unlisted) into its 63.3% subsidiary JP Hydro (listed) in a ratio of 1:3.
JHPL hydro generation grew 1.4%YoY in 2QFY10 vs Indian hydro de-growth at 7.5% on weak monsoon, as its plants are powered by snow-fed river. However, rec. PAT at Rs633mn (-5%YoY) led by flat EBITDA, lower treasury income (-44%YoY) & higher MAT rate (17% vs 11.3%). Due to heavy CAPEX, the EPS will see a drop to Rs 1.73 for FY10 and Rs 1.20 for FY11. HOLD the stock and ADD only on MAJOR CORRECTION.
JP Associates:
JP group has emerged as #1 developer in NOIDA region of NCR market, in our view, led by a) low cost landbank (Rs65/sq. ft.) being part of expressway projects, b) rational mid-market pricing (~Rs3K/sq. ft), but with aspirational faciliti es such as "chip-and-putt" golf course & c) development of community at "Wish Town".
Talks with sub-contractors indicate that JPA aims to complete the first 15kms of the Expressway by Jan-10. This should re-rate the value of its parcel #2 of Yamuna Expressway (not yet in our SOTP) & 650 Ha of landbank of its subs. executing F1 circuit. JP Infratech has spent Rs50bn of Rs97bn capex till 2QFY10. Expect Yamuna expressway with all its structures should open in 2011.
JP Associates is expected to report an EPS of Rs 8.05 and Rs 9.02 for FY10 and FY11.
Sum of the Parts Valuation of JP Associates.
Infrastructure Projects – 157
Power – 108
Cement – 67
Hotels – 4
Others + Treasury stock – 39
Net Debt – -75
Total / Share = INR 300.
BUY the stock on correction.