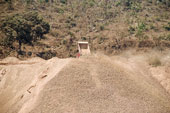 Sarda Energy and Minerals Ltd. (SEML), promoted by Kamal Sarda, is a steel producer located in Chattisgarh with backward integration in iron ore mining, coal mining, pelletisation and captive power and a sizeable exposure to ferro alloys. The business model is on the cusp of a major structural change beginning FY11, as it begins to substantially utilise its captive raw material assets (iron ore and coal mines and pelletisation) to make steel and generate power, leading to significant cost savings.
SEML till recently had only partial raw material integration, with limited production of captive iron ore that catered to only ~25% of its total iron ore requirements. The captive raw material assets to be the prime driver in more than doubling operating profits in FY11. We estimate them to contribute ~Rs1.9bn (65%) to its total operating profits (~Rs2.9bn) in FY11.
SEML's power generation capacity is expected to increase from 78MW in FY10 to 158MW in FY12 through a 30MW and a 50MW coal-based power unit. Further, the management has plans to set up additional power capacities of 2x150MW units.
Expect SEML to post an EPS of Rs46 in FY11, a growth of 185% YoY. SEML is currently trading at a P/E and EV/EBITDA of 4.2x and 3.3x FY11E respectively. Investors can BUY for potential return of ~61% with a target price of Rs 320.