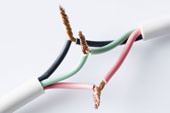 Sterlite Industries reported 2QFY10 net income of Rs9.6bn, which was 10% above our estimate for the quarter, and down 25% on a yoy basis (up 43% sequentially). Revenue at Rs60.8 bn was up 34% sequentially, mainly on account of higher realizations for zinc (+20% qoq) and lead (+15% qoq), and higher zinc volumes (+15% yoy). Sale of surplus power from BALCO also contributed to EBIT on a yoy basis, though aluminium and copper.
Zinc Division, which had reported results on Oct. 22 with Rs 10.5b EBITDA, constituted 78% of the consolidated EBITDA.
Copper Production was up 12% QoQ and EBITDA was p 53% at Rs1.8 b. Though EBITDA/ton at US$ 410/t, was sequentially higher by ~40%, EBITDA margin at 5.2% continued to rule low due to lower by-product realisations as per the company.
On ASARCO, the company believes, the matter is not over yet and shall continue to pursue the matter. Management declined to put any upper limit on its bid for ASARCO and maintained that its current bid is in line with current Copper prices.
Sterlite is expected to report an EPS of Rs 41 and Rs 61 for fy10 and fy11 respectively according to Goldman Sachs.
Morgan Stanley expects EPS of Rs 47 and Rs 80 for fy10 and fy11 respectively. We find this highly optimistic.
ADD on Decline or HOLD. Target of Rs 1,000 in 12 months.
Update: Citi expects EPS of 45 and 75 for fy10 and fy11 respectively.