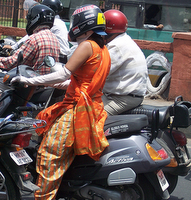 Baja Auto is estimated to record 25% growth in FY10/FY11 (industry 20%/15%), as a market transition to user-related economy and premium segments is expected to favor Bajaj's Discover and Pulsar brands, respectively. We expect the company to sustain recent share gains in bikes, increasing to ~25%, up from the January trough of 15%, and 21% in H1.
Going forward, there will be moderation in margins to ~20% by FY12, below peak levels of 22% achieved in Q2. This is due to (1) operating leverage, (2) better sales mix in favour of pricier economy, and premium models, and (2) higher price realization in African markets (~45% of sales), negating impact of weakening dollar.
Driven by an increase in stand-alone EPS forecasts by 35%/51% over FY10-11E, on the back of a revised volume outlook, especially for two-wheelers and exports. In future, expect the stock to trade at a narrower 10% discount to Hero Honda on an EV/EBITDA-based valuation, due to a closing market share differential.
BOFA Merrill expects Bajaj Auto to record an EPS of Rs 105 and 130 for fy10- and fy11 respectively.
Update:
Indian Market Mover and Shaker Goldman Sachs, just a while ago has upgraded Bajaj Auto to Buy from Neutral citing – Further evidence of strong demand upswing – based on channel checks, Rising utilization (from 55% in FY09 to >80% in FY11E) driven by strong demand and the company's successful new product strategy. Goldman expects Bajaj Auto to report EPS of Rs 112 and Rs 136 for FY10 and FY11. Bajaj Auto is currently trading at 12.3X FY11E P/E, on Goldman Sachs' 12-month target price of Rs2,175 is based on 16X FY11E P/E.