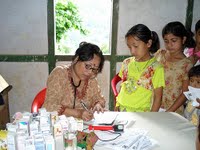 Cadila Healthcare has created multiple platforms to ensure stable growth over the medium term. It is one of the largest companies in domestic formulations (3.6% market share) with expanding presence across a number of international markets.
Revenues: CDH is targeting revenues of US$1 bn in FY2011E versus revenues of US$620 mn reported in FY2009. To achieve its sales target, CDH needs to grow revenues at a CAGR of 18% in Rupee terms over FY2009-11E. Expect domestic segment (c.60% of revenues) to grow steadily, export formulations will grow at an exponential pace on back of aggressive filings across geographies and strong ramp up in one of JVs (Hospira).
Exports growth ramp up has been the key contributor to Cadila healthcare's overall growth over last five years (35% cagr). We expect 28% cagr in exports revenue (incld JVs) over FY09 12. By acquiring small companies/assets, the company has ensured quicker turnaround to profitability and maintained healthy return ratios.
The company has delivered steady RoE of 25%+ over last three years.
Here are some Research views on the company, CLSA said,
With 29.4% net profit cagr over next three years and further potential for upgrades, we find Cadila attractive and initiate coverage with a BUY and a target of Rs 785 / share.
Kotak in its report said,
We arrive at a 12-month price target of CDH at Rs 700/share based on SOTP calculation of its various businesses. Indian finished dosage remains the most important segment for CDH, accounting for over half of the target price. This is followed by the US market and consumer / animal healthcare business. At our target
price, CDH will trade at 14.5X FY2012E
BOFA-Merrill was the first one to initiate coverage on Dec-1st and here is what they say,
Despite a 78% stock rally in the past six months (versus the Sensex up 18%), Cadila still trades at 13.3x FY11E EPS, a 25% discount to its peers. We see upside risks to consensus forecasts (BofA-MLe 15% higher), on strong 33% earnings growth and high revenue visibility.
EPS expectations are Rs30-33 for FY10 and Rs39-40 for FY11. Again Research follows, stock price rather than predicting it before hand. Do not BUY at current levels, maybe on correction.
Update:
ENAM in its report released just minutes ago on 18/12 says,
….raise our FY10E and FY11E EPS by 1% and 3% to Rs 33.8 and Rs 39.9 respectively. At CMP of Rs 647, the stock trades at a P/E of 19x FY10E and 16x FY11E EPS. We retain sector Outperformer, raising our target price to Rs 718.