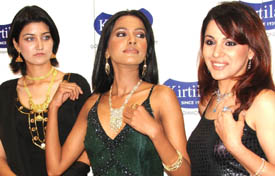 Gitanjali Gems has acquired Rogers, a retail jewelry chain in United States. The company has acquired 100% stake in this specialty retailer, which operates 46 stores in US with current revenues equivalent to US $ 80 million. Rogers Inc. is headquartered in middletown, Ohio and operates under brand names rogers jewelers and andrews jewelers.
This acquisition by Gitanjali in organized US jewellery market is a landmark step for the industry and a significant step towards moving up the industry value chain, which will offer a range of synergies to Gitanjali's existing operations. Gitanjali will not only have access to a large US consumer base, but leveraging Rogers' existing retail infrastructure will give Gitanjali a better control over the entire value chain in the jewelry business.
By way of this acquisition Gitanjali has taken one more step ahead in the direction of getting control over in the value chain, which will boost the company's plans to expand its retail presence in India and overseas.