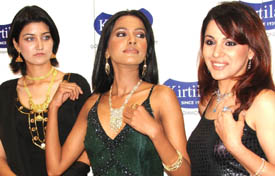 Morgan Stanley has initiated coverage on Gitanjali Gems Ltd with an Overweight rating. The company is a pioneer in branded jewellery in India and is leveraging its brand equity to drive growth in the retail market through increased outlets and distribution.
The market is underestimating the value of the company's real estate business. The standalone jewellery valuation looks cheap at 9x F09E earnings, given the 80%+ growth (F06-F07) in the branded jewellery business.
MS expects jewellery retail and exports to grow by 46% and 40% at the top line and by 78% and 43% at the operating profit level over F07-F10. Expect Gitanjali to deliver strong 51% growth in earnings in F2007-10 on the back of growth in its branded retail jewellery and jewellery exports.
On sum-of-parts valuation and MS arrives at a target price of Rs547, valuing the jewellery business at Rs417/share and the real estate business at Rs130/share. The company is expected to report an EPS of Rs 19.74, 28.38 and 35.78 for FY08,09 and 2010 respectively.