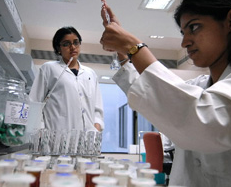 Jubilant Organosys: Jubilant's 3QFY08 results were in-line with expectations, with a robust trend in revenues as well as profitability. The high margin PLSPS business (especially CRAMS) was the key growth driver and now contributes c62% of revenues.
Sales growth of 37% yoy (19% organic) & 540 bps expansion in EBIDTA margins led to an 81% increase in recurring PAT. Reported PAT was buoyed by forex translation gains (Rs133m). CRAMS was the key growth driver, up 98% yoy (53% organic), while the legacy industrial & performance products business benefited from lower molasses prices (down 20% YoY).
Research services business to gain traction in coming quarters; ii) Capacity expansion at Hollister-Stier to 120m vials/annum to come through in 1QFY09; iii) Total capex of Rs3bn in FY08 plus Rs2bn in subsidiaries including hospitals and SEZs
Sun Pharmaceuticals: Sun's strong 3Q (sales up 47%; PAT up 60%) was primarily due to exclusivity sales of oxcarba in the US, reflected in the step jump QoQ in Caraco's distributed sales. Sun launched generic Protonix as talks between Teva & Wyeth failed. We believe Sun may enjoy extended co-exclusivity (with Teva), as the only other P-IV filer (Kudco) will get approval only after its 30- month stay expires (Dec'08)
Sun indicated that it has an option to buy out the current promoter holding, which would take its stake in Taro to 40%. Sun has a "not to sue" covenant from Wyeth & could get approval in June'08E, albeit as a non AB rated product. Sun could generate sales of cUS$315m during exclusivity; however, we await approval & more clarity on distribution strategy.