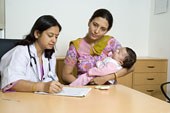 Sun Pharma reported Sales and PAT were up 76% and 135% respectively. While exclusivities were the primary driver of growth and margin expansion, we highlight that core biz appears to have done well too. We estimate exclusivity sales of cUS$68m in 2Q – assuming PBT margins of 85% on these sales, we estimate that recurring sales and PAT grew 32% and 31% respectively. Sun maintained its FY09 guidance.
Sun indicated that post the sharp erosion in market values of global generic companies, there appear several assets that could give a better return vis-a-vis Taro. Sun is comfortable on its risk with respect to the "at risk" Protonix launch and intends to continue sales till it reaches a
point where the risk gets higher.
According to Citi, Sun Pharma is expected to report an EPS of Rs 85 for FY09.
Ranbaxy Laboratories:
Ranbaxy' results were disappointing as the company reported 3QCY08 loss of Rs3.95bn versus our estimates of profit of Rs1.73bn mostly from forex loss.
The key one offs and forex related expenses were – Inventory write off related to US FDA import ban amounting to Rs2.4bn; Forex related to losses amounting to Rs3.1bn, and the other operating income reported loss of Rs2.8bn compared to Rs13.16bn income last year; One time $9mn or Rs450mn SGA expense.
Heavy Cash Balance: Post the preference issue to Daiichi Sankyo, Ranbaxy has a significant cash balance (Rs35bn or $700-750mn).