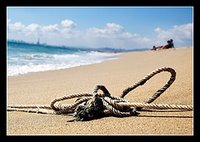 Garware Wall Ropes (GWRL) has reported results for Q4FY08 lower than consensus estimates, owing to sluggish growth in the cordage segment.
Net sales increased 19% YoY to Rs 1.2bn, 8% short of estimates as the revenue share of the cordage business declined to 64% against the full-year average of 73%. Export sales have also been comparatively lower, comprising 33.4% of revenue in Q4FY08 as compared to 42% in FY07 and 36% in FY06. The EBITDA margin, at 13.2%, was 100bps lower due to rising crude prices, which led to higher input costs for cordage products.
For the current year, higher execution in the geo-synthetics business is likely to offset the slowdown in weak fibers of cordage.