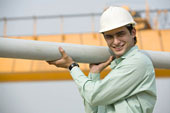 GMR Infrastructure has acquired 50% stake in Intergen, a power utility with assets in UK, Mexico, Netherlands, Australia and Phillipines, for US$1.1 B. Intergen has an operating capacity of 7,658MW, while its attributable capacity is 6200MW. 85% of Intergen's capacity is natural gas based, while the rest is coal-based. GMRI has purchased the stake from AIG, while Ontario Teachers' Fund holds the balance 50%.
Intergen clocked revenue of US$1.6B, EBITDA of US$613M, PAT of US$105M, FCF of US$330M and distributed US$140M dividend in 2007. It appears highly leveraged with gross debt of US$4.3B as against equity of US$600M, but we believe this is not unusual amongst utilities, as it is within the prescribed DSCR of 1.4.
GMR's Modus Operandi behind Intergen Investment:
GMR has funded its US$1.1B investment via domestic bridge loans at 10.5%. Interest payment should negate US$50 mn of GMR's estimated share of Intergen's profits (based on 2007 data). Intergen's generous dividend payout will go towards debt servicing at least through 2010, in our estimate. Refinancing the loan via forex loans and equity injection would enhance contribution at the net level.