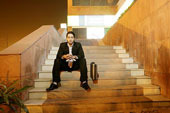 Parsvnath Developers Ltd – PDL reported F4Q08 consol results – sales up 25.5% to Rs5 bn, OPM compressed by 190 bps to 32.8%, which together resulted in 19% fall in net profits to Rs1.07 bn. Full year profits for F08 were Rs4.2 bn (up 45%), versus our estimate of Rs4.4 bn, 5% below consensus estimates.
PDL's net debt has risen to Rs14 bn (74% net gearing) versus Rs12.8 bn (71%) in F3Q08. Receivables continue to rise – Rs12.8 bn (Rs10.8 bn in F3Q08) – implying incrementally 37% of sales (43% previous qtr).
Land bank is 211 msf (210 msf in F3Q08), area under construction moves up to 77 msf (75.8 msf in F3Q08) and pre-sales moves up to 40 msf (32.8 msf earlier). Ongoing projects include 24 msf of plotted development. The company grossed Rs50 mn in rental income in F08, which it expects to rise to Rs250-300 mn in F09.