RBI steps in to check rising Inflation – Hikes Repo Rate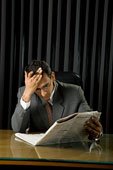 With the Indian Inflation out of control, India's central bank – RBI stepped in late last evening and hiked the repo rate – the rate at which it lends/injects money by 25bps to 8%. The reverse repo rate – the rate at which RBI absorbs liquidity and the CRR were left unchanged at 6% and 8.25%.
Since the uptrend in inflation from 3% levels in Oct 07 to 8%, the RBI has used the CRR as a liquidity absorbtion tool and raised the CRR 75bps in the same period from 7.75% in Sept07 to 8.25% in May08. Despite a deceleration in the macro momentum, in a pre-election year, inflation will continue to get priority over growth.
Home Loan and Auto Loan are likely to see equivalent rise in lending rates [~ 0.25%]