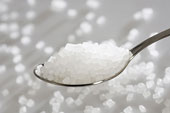 Shree Renuka Sugars reported better results despite Weak Sugar sector. Renuka sugar's Q3FY08 net profit for the parent company at Rs230mn is down 27% y-o-y. EBIT of manufacturing division grew 62% y-o-y driven by 329% jump in renewable energy business and despite a 55% drop in profit from sale of sugar.
EBIT growth of the sugar division in Q4FY08 will be further driven by (1) higher sugar sales as 36% of current year production is yet to be sold and (2) sugar refinery commissioned in July08 at Haldia could contribute.
Renuka sugar is looking at crushing over 5mn tonne sugarcane in FY09E, similar to the amount crushed in FY08 despite likely decline of 30-40% in sugarcane production in Maharashtra and Karnataka where its factories are present.
Renuka Sugar is the fifth largest sugar manufacturer of Sugar in India and is expected to report an EPS of Rs 4.13 for 08 and Rs 10 for 09.