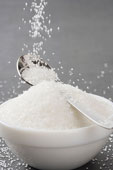 Shri Renuka Sugars is acquiring a Brazilian sugar and ethanol company in the state of Parana, in the centre-south region of Brazil. We view the potential acquisition as strategically compelling, as it increases operating flexibility and offers geographic diversification.
Acquisition Valuation and Financing:
The acquisition is reasonably priced, as Renuka trades at USD90/tonne; and Cosan SA acquired Nova America at USD80/tonne in January 2009, and sugar prices have rallied since. Renuka is likely to pay USD82m for a 100% stake, which could be paid for through its recent QIP.
Further, expect it to be EBITDA-accretive, and add 10-15% in the first full year following integration (i.e., assuming no synergies). The deal increases the current crushing capacity by c62%; and 3) the acquisition cost is reasonable (at EV/tonne of USD77). Note that the acquisition is subject to final approvals within 45 days.
The acquisition would lead to backward integration of Renuka's Indian refining business, and account for 20-33% of its raw sugar requirement for FY11e, geographical diversification, with a presence in Brazil, the world's largest producer of sugar.
Update:
Renuka targets to have 20% ROE in VDI compared to losses led by (1) increase
in cane crushing by 35% to full capacity; (2) doubling of sugar production by April
2011 by investing US$20mn from internal accrual of VDI. Renuka also seeks to
save US$5mn by importing sugar through VDI's underutilized logistics assets.